May 19th, 2008
I'm a big fan of 100 calorie snack packs. They allow me to indulge guilt-free without pigging out.
Here are reviews of the ones I've tried:
STELLA D'ORO "S" COOKIES
OK, I can't find a picture of the 100 calorie packs…but rest assured, they DO exist! They are relatively new and difficult to come by, but if you find them, GRAB THEM!! The cookies are little but they are jam-packed with the same wonderful goodness that the original "S" cookies have. Really tasty. They also have them in chocolate, which I have yet to try. My nonna used to feed me "S" cookies with hot chocolate all the time…so eating these is a little trip down memory lane, at a fraction of the calories!!
HOSTESS COOKIES
Well, they don't have the squiggle of frosting on the top that the originals have, which is a little disappointing. At first I really liked these, as on occasion I tend to enjoy the type of baked goods you get at the 7-11, but I got tired of these pretty fast. The ones with the cream filling is better than the ones without. I might try them again, but probably not anytime soon!
SUNCHIPS
Although I tend to crave sweets, I really enjoy a salty snack on occasion too. I love these Sunchips! I often get a "bet you can't eat just one" from chips, so it's great having a 100 calorie pack of these…and they're all whole-grainy which helps me justify reaching for a pack.
TRADER JOE'S CHOCOLATE BARS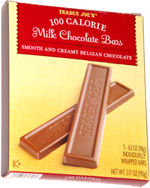 I've never had the milk chocolate, but the dark chocolates ones are great! The perfect amount of dark chocolate, and it's tasty, too! It really helps curb my need for something sweet after dinner…and there's all those nutritional benefits of dark chocolate too…so, hurrah!
KEEBLER FUDGE SHOPPE STRIPES
Those regular Fudge Shoppe cookies are a delight. I could eat an entire package in one sitting, so I was ecstatic upon seeing these. They're really good…one of my favorites of the 100 calorie packs. I hope that Keebler decides to make 100 calorie packs of their Fudge Shoppe chocolate-covered grahams…THOSE are wonderful.
TRADER JOE'S CHOCOLATE TOUCANS

Yummy! They taste like Teddy Grahams. The cinnamon toucans are good, too. The best thing about these is that one pack totally satisfies me, and I don't have to fight the urge to go back, like I do with the Fudge Shoppe cookies!
KEEBLER FUDGE SHOPPE GRASSHOPPERS
Good, not great. They only have the fudge on one side, unlike the original versions. I got a little tired of these midway through the second box I ever bought, and I've had a few bags lingering around for months. They're still good, but the Fudge Stripes are better.
Filed under
Uncategorized
|