May 11th, 2008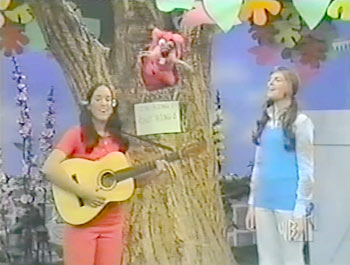 Anyone else out there used to watch that show "The Magic Garden" on WPIX in NY? According to Wikipedia, it ran from 1972 until 1984. I used to watch it. It was weird.
Anyway, I'm not writing about that right now! I'm writing about OUR garden!!
Matt and I have gotten into gardening lately. I tried a few springs ago, but nothing lasted very long, unfortunately. I think that at the time, I simply didn't have the patience. In September, we planted a bunch of mums. Since we had a fall wedding, we decided to use autumnal flowers as decorations…we settled on potted mums. We took the mums home and planted them. To our surprise, they are doing VERY well! A few of them haven't come back, but most of them did! After I saw them coming back, I thought maybe we should try to plant more things.
Our yard is very small and a little bit of an eyesore in some respects. Our yard is separated from our neighbor's by a chain link fence, and our neighbor has a very large, tacky, light-up Madonna. So, we figured we can make our yard a little more pleasant by gardening! The front of the house had some more promise with flowers from the previous owners, but we don't really have a front yard because our house is right up against the sidewalk.

Those are our mums making a comeback. They won't be blooming for a while.

A Jupiter's Beard that's beginning to bloom and some pansies. Pansies are good because they're pretty resilient and can even stand up to cold nights.

That's a Jacob's Ladder, which is blooming very nicely!

That's an azalea that's actually been there since before we moved here. It's really thriving this year. There are also more pansies and a pink dahlia. That's another azalea towards the right, and it's not doing so well. We bought another azalea after I took this picture, but it's not blooming yet.

Daisies and pansies. The new azalea is to the left of that. Those yellow sticks around our house are from when the exterminator was here last week. Carpenter ants were eating through the wood in our basement, so we had to get the house exterminated…but that's probably for another blog post!

We bought that today. I can't remember what it's called, but we thought it was kind of neat looking, so we planted it in front. We used to have a tiger lily flower there from the family who lived here before. It was really pretty, but someone stole it! It was completely uprooted while it was thriving. One of the safest cities in America? Ha! They should take flower theft into account (and peace rock theft!)

Last, but not least, we have raspberries. They're just starting to come up.
Also, Matt is growing hops to use in his homebrews. It will be a while before they're usable, but it's pretty cool. We also planted tomatoes and lettuce today! I hope those work out, too. We can use the tomatoes to satisfy my tomato cravings and not only will the lettuce be good for salads, but we can feed it to Karl the iguana!
Filed under
Uncategorized, gardening, nostalgia
|
Comment (0)
May 11th, 2008
I was thinking about how when I was a kid, it was a really awful ordeal when my parents would try to get me to eat anything of nutritional value. All I really liked was pasta, pizza, and grilled cheese. OK, those are still some of my favorites, I'll admit!
My mom would try to sneak broccoli into things…like she'd mash them into potatoes, as if I were color-blind and couldn't tell that my mashed potatoes had a greenish hue!
My parents would always tell me that when I get older, I'd learn to like healthier food. I never believed them. Then today, I was walking home from the gym and I found myself craving tomatoes. Until only a few years ago, I hated tomatoes (though I loved tomato sauce — go figure!) and here I was, walking home from the gym (exercise is also something I always hated until recently!) craving TOMATOES! Tomatoes! Something healthy!
I started thinking about how I love food like grilled asparagus, broccoli, salads, etc…all stuff that I could barely force down my throat as a child.
I guess my parents were right. Somehow your taste buds must change with age. Look at me, I'm growing up! But, I wouldn't turn down a slice of pizza and some chocolate mousse for dessert!
Filed under
Uncategorized, food
|
Comment (1)