April 29th, 2008
I was just at the gym, and I saw some behavior that was so incredibly rude that I had to blog about it!!!
There are these nifty ellipticals with a nice incline that I like, and there are only two of them in the entire gym. Both were empty, but one seemed to be occupied. It had a towel, water bottle, and tabloid on it, so I assumed someone had quickly jumped off to go use the restroom or something.
I began my work-out, and about 10 minutes into it, this woman doing sit-ups on a mat behind the row of ellipticals got up and started using the elliptical. I thought it was a little odd. She worked out for about 10 minutes, then went back to the mat to do some more mat exercises, still leaving her stuff on the machine. Then she came back to the elliptical. Then, she left again.
When I was done on the elliptical, I went to go refill my water bottle, and I saw her on the weight-lifting side doing some strength training. Then I walked over to the exercise bikes and I saw that her belongings were STILL on the machine. I did fifteen minutes on the bike, and when I got up to leave, I saw her doing mat exercises again with her stuff still sitting there on the machine!
I was there for about an hour, and she was off and on that machine but left her stuff on there so nobody else could use it!!! I was absolutely appalled! She had only actually used it for 25 minutes or so, but she hogged it for close to an hour! And as I said, there are only two of these ellipticals in the whole gym, so it's not like there are a dozen of them!
This lady needs to have a little lesson in common courtesy! I've never dealt with this level of inconsideration at the gym before.
Filed under
Uncategorized, the gym
|
Comment (0)
April 29th, 2008
I've been seeing commercials for Sonic for years. I used to see them back in the SF Bay Area, but I never actually SAW a Sonic. I always thought it was a little weird that they would advertise in an area that didn't have any locations.
When we drove across the country 4 years ago, we saw a Sonic! We HAD to stop there, no question! I ordered grilled cheese and tater tots. I enjoyed them.
And that was the last time I ever saw a Sonic. But I still see those stupid commercials all the time!!!
So, I decided to go to their website to find out where Sonics are. The closest one to Boston is on the Jersey Shore.
This graphic was on their website: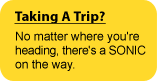 Isn't that a little misleading? It's not like they're all over the place, like McDonalds. They don't have ANY in New England!
I simply don't understand why they advertise everywhere! Don't companies usually like to advertise where they actually have locations? I don't see commercials for Shop-Rite up here. I never saw Friendly's commercials when I lived in California.
To make matters worse, their dumb advertisements make me want grilled cheese and tater tots. The worst part is that I never see commercials at home because we have Tivo…so I see these commercials at the gym. Just what I need, to start craving grilled cheese and tater tots while workin' up a sweat on the elliptical!
I suppose I could just make my own grilled cheese and tater tots. It's not that hard. I even have a grilled cheese machine!
Filed under
Uncategorized, food
|
Comments (2)
April 29th, 2008
On Saturday, Matt and I attended a Sheep Shearing Festival at Gore Place in Waltham. It was so much fun!
I am torn between being a city girl and a country girl. I lived in Brooklyn when I was little, but spent most of my life in Central Jersey, which at the time was filled with farms and cows. Now it's filled with shopping centers and housing developments. When we first moved to New Jersey, we didn't even have a local supermarket! We had a general store. The summers smelled like cow manure. I haven't lived in an area like that in a long time. Usually I tend to live right outside of cities.
But until recently, I didn't know that we were only a few miles from being able to visit the farm animals at Gore Place! Below are the pictures from the festival:

Matt and I listening the the bluegrass music

OXEN!

This big guy mooed in a baby's face.

Matt looks proud because this was after I confiscated the camera because he was spending a great deal of time photographing cow doody.

Lots of oxen pics

Sheep, many waiting to be sheared.

Sheep enjoying their new hairdos.

A llama! Isn't he funny?

A girl sheep getting sheared. She didn't seem to mind and she was awfully cute.

Baby goats!

The baby goats kept going into that little roof structure thing.

BWOCK!

Border collie herding demonstration.

Mini horses

Matt and horses

HELLO! I'm Mr. Ed!

Pygmy sheep and goats.

Me

Alpacas! I think they're so funny looking!!

Matt enjoying the alpacas!

BABY!

I think this was the Alpha Male and he was kind of a jerk to the other goats.

The Alpha Male trying to pick a fight with another goat. They were butting each other's heads.

A pirate looking guy selling baskets
Filed under
Fun stuff, Greater Boston (General), My Life, New England, Photos, Uncategorized
|
Comments (3)